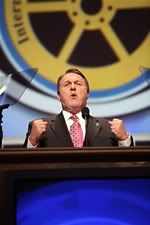 James P. Hoffa, headed to another 5-year term as general president of the International Brotherhood of Teamsters, said Friday the congressional elections will aid the rebuilding of organized labor.
Hoffa, who first became Teamsters president in 1998 and was elected to a full term in 2001, said the midterm elections that put Democrats in charge of the House and Senate should help labor achieve its goals.
"Now that we have the House and the Senate, that will have major effects on the way this country is run," said Hoffa, who was a labor lawyer in Detroit before moving up the ranks to head the 1.4-million-member transportation union.
Teamsters campaigned for Democratic candidates, committing millions or dollars and knocking on thousands of doors. along with other unions in the Change to Win federation.
The Teamsters want Congress to pass a law raising the minimum wage, block trade agreements that don't address labor concerns, seek better health care coverage for millions of uninsured people and pass legislation that would make it easier to form a union if a majority of workers want one, Hoffa said.
But he acknowledged that President Bush might veto pro-labor legislation passed by Congress.
"The Employee Free Choice Act certainly would help unions organize," said the 65-year-old Hoffa. "We have been hamstrung by the Bush NLRB (National Labor Relations Board) which tries to thwart the organizing of unions. Right-wing judges have done everything they can to thwart the American labor movement."
Hoffa said that congressional passage of such legislation would put the president on the spot.
"We're certainly going to embarrass him," Hoffa said. "Can you imagine him vetoing a minimum wage bill? He will look so bad if he does that."
More importantly, Hoffa said, Democrats will have the power to block right-wing nominees for judgeships and other government posts.
With about two-thirds of the vote totaled, Hoffa held almost a 2-1 lead over his opponent, Oregon Teamsters official Tom Leedham. Calls to Leedham's headquarters were not returned Friday.
Hoffa's opponent had claimed the incumbent was not strong enough to protect worker benefits and rebuild the flagging labor movement.
When the AFL-CIO merged in the 1950s, one of every three private-sector workers belonged to a labor union. Now, only about 8 percent of private-sector workers are unionized.
The Teamsters and a half-dozen other unions broke free of the AFL-CIO starting in the summer of 2005 and formed the Change to Win federation. The breakaway unions cited the need to focus more of their money and time on organizing.
Hoffa pointed to several Teamster organizing efforts recently. Among those are organizing 15,000 workers at UPS Freight, 5,000 bus drivers and as many as 100,000 port truck drivers.
And he said the Teamsters work together with the other unions in the Change to Win federation.
"We help each other in each battle," Hoffa said. "That wasn't there during the AFL-CIO days."
He said that going to the AFL-CIO "was like going to the United Nations. You had a diversity of dozens and dozens of unions with no common goal."