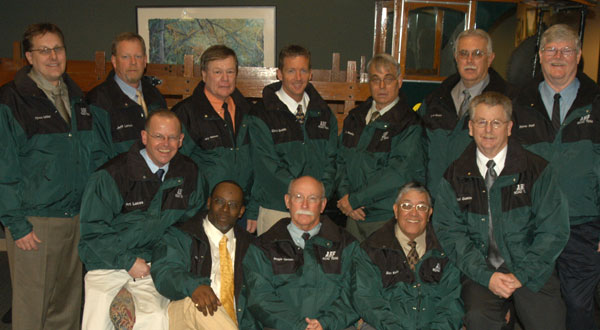 ABF Freight System, Inc., has selected its 2008-2009 Road Team, comprising 12 drivers who exhibit the highest standards of professionalism and practice it daily on North American highways and city streets. Road Team membership requires an exemplary driving record and is one of the highest honors an ABF driver can achieve. The new ABF Road Team members and the ABF Service Centers where they are based are:
Wylie R. Basford – Ontario, Ore.
David W. Boyer – Wytheville, Va.
Reginald D. Gamblin – Amarillo, Texas
Paul D. Gattin – Little Rock, Ark.
William S. Hall – Atlanta, Ga.
Kelvin L. Holly – Albuquerque, N.M.
Jeffery D. Larson – Tulsa, Okla.
Arthur H. Lucas – Buffalo, N.Y.
Gary L. Mason – Cheyenne, Wyo.
Chad Miller – Chicago, Ill.
Ben B. Saiz – Albuquerque, N.M.
Christopher G. Smith – Salt Lake City, Utah
"Chosen from what we believe is the best group of drivers in the transportation industry, our 2008-2009 Road Team members set the standard for customer care, professionalism and safe-driving." says ABF Senior Vice President of Operations Wes Kemp. "Their dedication and commitment to quality and error-free service make these drivers role models for the entire industry. We applaud their devotion to upholding the utmost standards of professionalism."
During their 24-month term, ABF Road Team members speak at schools, transportation organizations, and other civic groups or meetings, addressing key issues such as safety and the vital role freight transportation plays in the global economy. Each member serves as an ambassador for ABF and the trucking industry, educating the public on sharing the road with trucks, what to expect from a professional driver and other topics of community interest.